Welcome to the OPS Partnership
The OPS Partnership is an experienced and respected racking and shelving solutions provider. With decades of experience in the materials handling and warehouse racking industry, The OPS Partnership supplies storage systems and equipment all over the UK.
Specialising in design and installation of industrial pallet racking systems, commercial shelving solutions, rack inspections and procurement of rack components, The OPS Partnership will help you to achieve the most cost effective solution available to meet your storage requirements.
The OPS Partnership is built on the desire to help companies address their storage needs by establishing a clear understanding of objectives and providing effective solutions, whilst ensuring absolute compliance to health and safety requirements.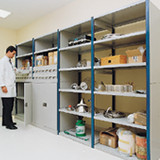 Our Services