Pallet Racking
Warehouse pallet racking provides efficient storage for a variety of pallet sizes and types, in both static and dynamic applications. The OPS Partnership's long standing relationships with a number of UK and European pallet racking manufacturers means that you can be confident we will source and design the most effective warehouse storage solution for you.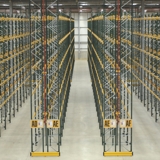 We can even source systems which are ideally suited to the storage of bulk loads and irregular shaped items that cannot be stored on pallets. The systems we provide can by used with all designs and makes of fork lift trucks and mechanical handling equipment and we can provide rack spares, repairs and any additional components you may require.
Pallet racking is fully adjustable and can be modified for Drive-In, Narrow Aisle, Push Back, Multi-Tier and Heavy Duty applications.
Please call us on 01442 244100 for further advice and information.